B3 Beauty Wand and Galvanization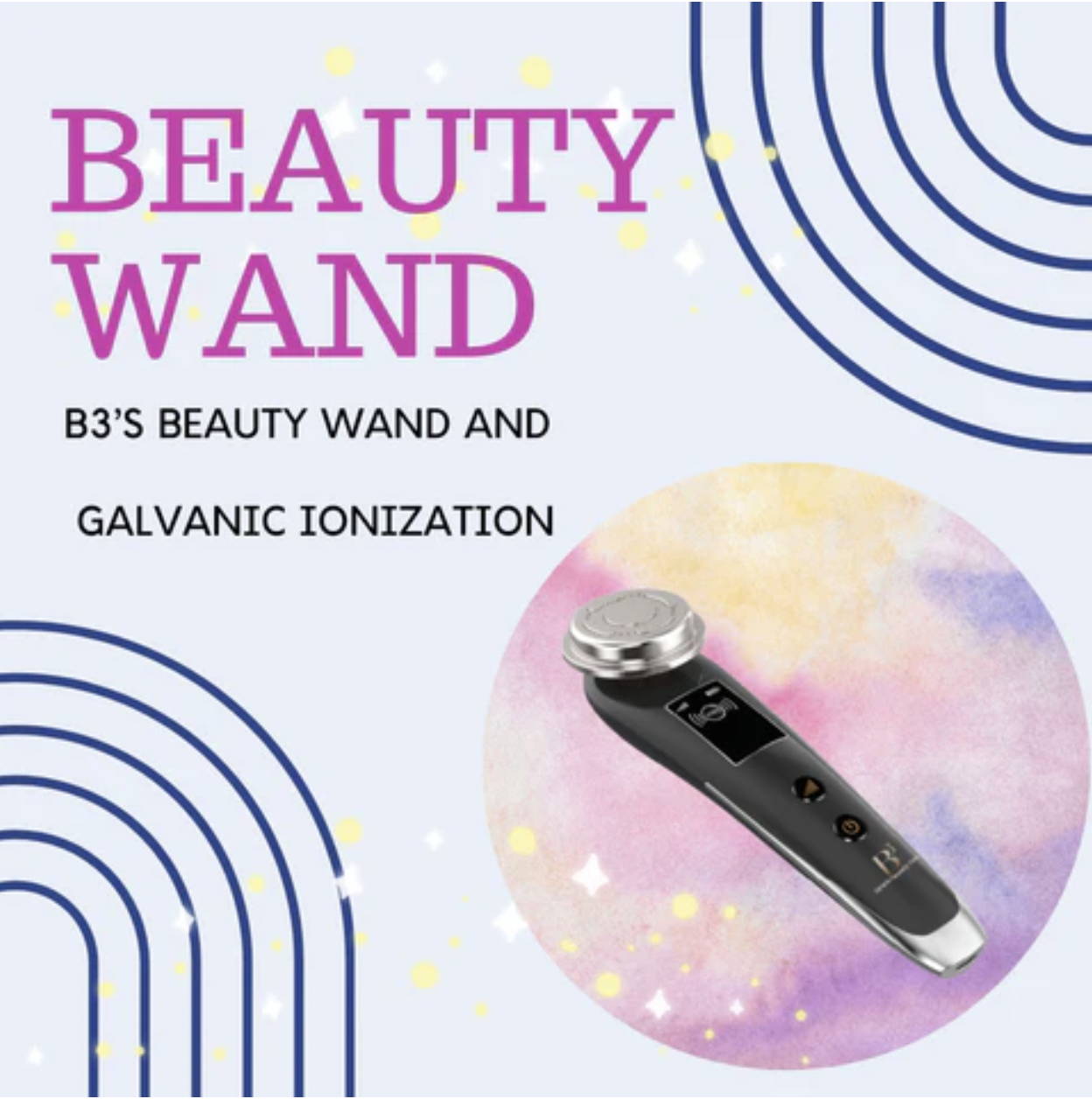 The B3 Beauty Wand is our most loved skincare tool because it transforms the skin after one treatment and even more so with continued use!

Julia Dalton-Brush, B3's founder, designed the wand so that Makeup Artists can use this secret weapon as a way to elevate makeup application, deepen skincare penetration, and create a unique experience for the client. Makeup Artists love it so much they often purchase a B3 Wand for their clients then end up purchasing one for themselves because they find themselves reaching for it so much! This device can be used 2-3 times a week for a personal treatment or prior to a makeup application. It's also great for brides, models, or any skincare enthusiast.
What is Gal

vanizatio

n?
The B3 Beauty Wand uses galvanized technology and micro-currents to create multiple benefits. Galvanic ionization is a low-level current that uses ions to achieve skin benefits. This treatment is completely painless: all you feel is the device gently vibrating and warming up. There are 5 different levels of vibration: each step of the treatment uses a different micro-current to create specific benefits, along with two different LED light treatments (red & blue.)
What are the benefits of Galvanization?
Stimulates collagen production

Boosts blood circulation and oxygen to the skin

Deepens skincare's penetration

Improves moisture retention

Creates radiant skin

Removes impurities from the skin

Tightens skin to create a lifted look

Reduces appearance of fine lines over time

Reduces acne over time
the B3 Beauty Wand treatment
1. Detoxify: extract pore impurities by using negative ions to open up the pores that trap dirt, makeup and oil.
2. Tone: apply
B3 Pomona Toner
on
a cotton pad, use the B3 Wand's transparent clip to attach the pad, run the wand over your face, watch as the cotton pad gets filled with unwanted impurities!
3. Photo-rejuvenation: a
pply a B3 Balm Facial Oil,
run the device over your entire face and feel the device warm up and stimulate blood flow and oxygen. The microcurrent allows for deeper penetration of skincare, stimulates collagen production and reduces the effects of environmental stressors.
5. Eye Care: apply
B3 Nourishing Under Eye Cream
then gently press the wand to the eye areas – including the under eye area and under the brow bone - as it vibrates in short, gentle bursts.
Who should not use the B3 Wand?
Anyone with pacemakers or other implanted medical devices

Pregnant women

This little device packs a huge punch and you can always check back with to review each step! Check out the B3 Wand here and send this blog post to a friend! And make sure to tag us on social media so we can share your experience!