Special-Edition Father's Day Kit (and how to use it)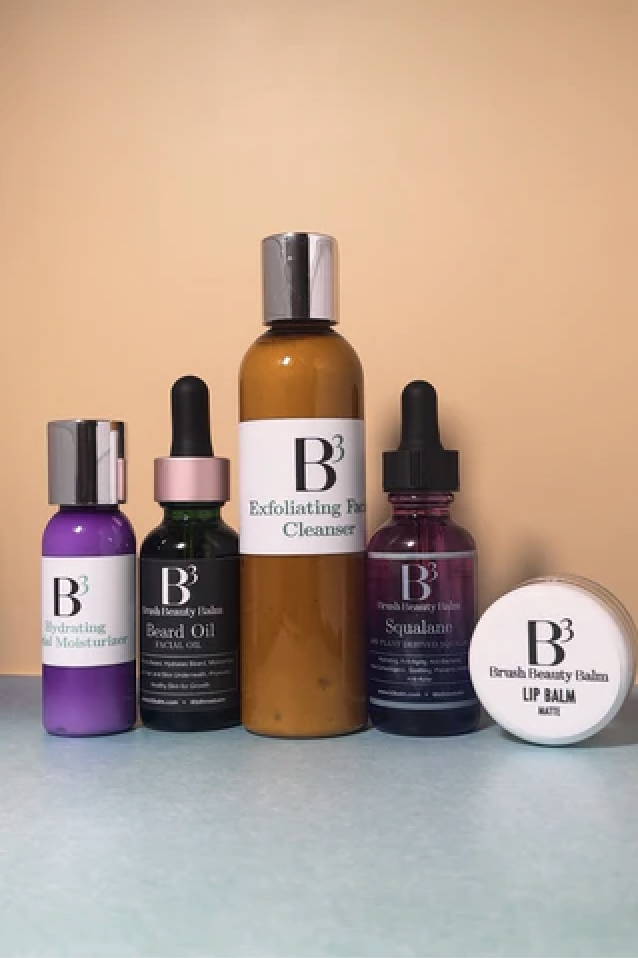 We know skincare can be overwhelming when there are a million products out there with different ingredients that all go on in a unique order.

Help is on the way! Here's a comprehensive guide to how to use each product in our amazing Father's Day Bundle.

This perfect Father's Day Kit includes:

1. Exfoliating Facial Cleanser
2. Squalane Facial Oil
3. Beard Oil
4. Hydrating Facial Moisturizer
5. Matte Lip Balm
Use the products in this order and you're on your way to hydrated and healthy skin!
EXFOLIATING FACIAL CLEANSER
Spread this cleanser on the face and massage with water once in the morning and once before bed to cleanse the skin of any dirt, oil, or pollutants. Feel the hydration from its cream base and notice the beads of pumice gliding on the skin. This is the perfect combination for hydrated, smooth skin. It reduces texture, dry patches, blackheads, oil, and fine lines!
SQUALANE FACIAL OIL
Use the dropper applicator to put 3 to 5 drops of oil into the palm of your hand then pat it into the skin. Use morning and night after cleansing.
Many people think that if they have oily skin, they should avoid all facial oils. It's actually the opposite, adding facial oil tells your skin to stop producing oil. Over time, skin becomes less oily, and more hydrated.
Squalane is naturally produced by our skin but production is reduced as we age. This olive-based Squalane will help slow down aging!
BEARD OIL
HYDRATING FACIAL MOISTURIZER
It's like a spa in a bottle. 💙
Squeeze a pea-sized amount into the palm of the hand and apply it to your face. Don't forget to get a good whiff of the therapeutic smell before applying. Use it day and night after applying Beard Oil. This amazing moisturizer helps seal in all of your hard work while maintaining hydration, reducing redness, and inflammation.
MATTE LIP BALM
Last but not least, for smooth, hydrated lips use our matte lip balm day and night. Apply after the Hydrating Facial Moisturizer. You only need the tiniest amount to cover the lips. This lip balm draws moisture from the air into the lips and seals it in to ensure long lasting hydration and smoothness.

We hope this guide helps answer any questions you have about how to use our Father's Day Kit and simplifies the process for healthier skin. 🙌
Feel free to contact us with any questions regarding recommendations, usage suggestions, or ingredients. We strive to provide simplicity and transparency in our products.